Share:
Cypress Knoll Golf Club
Soon to Be the Best Golf Value in Palm Coast, Florida - Again!
By David Theoret
Just over a year ago, Doug Brown and his wife, Janice Reid purchased Cypress Knoll Golf Club in Palm Coast, Florida. Brown is a former college golfer whose family has owned property in the Cypress Knoll community for over 40 years.

Since purchasing the course, he has been doing his best to make the course more attractive to all caliber of golfers. It's one of the tightest courses in the area and Brown and his crew have been hard at work widening many of the fairways, improving tee boxes and just making the course a more enjoyable playing experience. So far, his hard work has not gone unnoticed.

For those not familiar with this track, Cypress Knoll is Gary Player designed golf course. Player did a great job of blending Florida's flora and fauna into the surroundings. As you make your way around the course, you'll be exposed to strands of cypress, pine and other hardwood trees and other plants indigenous to these parts, plenty of Florida wetlands and the occasional alligator and osprey. But don't let the natural surroundings get in the way of some great golf.

At only 6,674 yards from the back tees, Cypress Knoll is not the longest course you will ever play but don't let the length fool you; a course rating of 72.9 and a slope of 141 says this course will give you everything you can handle. Even the White tees at 6,158 yards (70.5/132) will provide most golfers with all they can handle and still leave with some dignity intact. Cypress Knoll is also a favorite among senior golfers, as it provides a challenge on every hole and is well suited to their game. After all, seniors don't hit the ball as far as they used to, but they do tend to keep it in play, which is very important at Cypress Knoll. The Senior Tees play 5,588 yards with a course rating of 67.5 and a slope of 119). Ladies will have an enjoyable round from the Red Tees (4,792/68.7/121). From up here, there are no forced carries and many of the hazards have been taken out of play.

Although the course plays through a residential neighborhood, what sets Cypress Knoll apart from other courses in the area are the tree-lined fairways; boundaries that urge you to hit a straight, controlled shot off the tee or pay the penalty; as in stroke and distance. Throw in the occasional clump of sea grass and the odd pot bunker and you've got a golf course that will challenge the best golfers around as well as providing less able golfers with a good time.

Cypress Knoll has a combination of traditional concrete cart paths along with several natural paths, which adds a nice touch. There are also several long cart rides through the dense Florida brush which provide a welcome change of scenery from the surrounding homes.

The greens are Jones dwarf grass, and are in good shape, rolling moderately fast and true. Some have subtle and not-so-subtle undulations; the latter specifically being the 15th green which has a deep depression on the right side. When the pin is down in the depression, things can get interesting.

The first three holes are probably the most demanding on the golf course. Number 1 is a long dogleg that plays 406 yards from the white tees. Trees line both sides of the fairway off the tee, something you'll need to get used to quickly. The fairway slopes right to left and can create some interesting lies. Your approach shot will be into a very large putting green guarded by a small pot bunker on the right side as well as a small pond.

The 2nd hole is a pure golf hole. It's a par 3 that plays 171 yards with deep, cavernous bunkers in front and behind the green. Find the green off the tee and you're on your way to a good score. Number 3 is another narrow driving hole that plays 436 yards from the White tees. The fairway is lined with trees on either side and a fairway bunker comes into play off the tee on the left side. Your approach shot is to the smallest green on the course and requires a great deal of accuracy to hit it in regulation.

Once you hit the 4th hole, things start to open up, at least for a while. Number 7 is the only par 5 on the front side and offers a good risk/reward opportunity. It's a dogleg right that plays 471 yards from the White tees. A well struck drive down the right side that stays short of the wetlands is going to leave an approach shot of a little more than 200 yards and give you a shot at getting home in two. Number 9, a par 4 that plays 373 yards from the White Tees, is a challenging finish to the front side. With water all down the right side and out of bounds left, the optimal shot off the tee is a draw that finds the left center of the fairway. A good tee shot will leave a mid-iron into a green that is well protected on the right side by water. Par is a good score here.

The back nine starts off with the course's longest hole - a 525 yard (White tees), par 5, with houses and out of bounds on the right and water that comes into play on the left. It's another narrow driving hole, but you should be used to that now! The good news is that once you get off the tee, there's not a lot of trouble left between you and the green, so a good drive can leave you with an opportunity to get on in two. The green is elevated and slopes back to front and is protected by a bunker on the left side and a grass swale in the front left. Although long.; low scores are possible here.

The next hole, Number 11 is the #1 handicapped hole and plays a mere 360 yards from the White tees. Make sure you have enough club to make it to the dogleg - which is more of a right turn - otherwise you will be blocked out and forced to layup. Don't bother trying to cut the corner as there is a pond in front of the green, which slopes back to front.

Number 15 is probably the prettiest hole on the golf course. It's a straight par 4 that plays 340 yards from the White tees with a large lake directly in front of the green, trees on the right and another lake on the left. That said, there is still a considerable amount of room in the landing area. Your approach shot plays into a long, narrow green with a deep swale in the middle of it. If the pin is at the bottom of the swale and your approach shot catches the hill, you could be in for a low score. Miss the green short left and the bunker will make up and down difficult.

Number 18 is an interesting hole mainly because not many championship courses end with a par 3. There's not a whole lot of trouble between the tee and the green as long as you avoid the small pond over on the right. The large green is receptive, and a par is always a good way to end the day.

After your round, stop by the Player's Club Restaurant in the clubhouse. Wednesday is Pasta Night where you can pick your own ingredients from a selection of meats, seafood, pastas and sauces. There's also a Friday Fish Fry that includes all the trimmings and several other weekly specials. Guaranteed you won't leave hungry.

Last Word: If you can't control your tee shots, you may want to consider trading in those Pro V1s for Pinnacles; many fairways and landing areas are narrow. Although the topography is flat in this part of the state, Player did a good job of moving dirt to create a little movement in the fairways. As you make your way around the course, you'll encounter a number of lakes and ponds that need to be contended with. The 150-yard markers are usually a good aiming point off the tee or on the par 5 holes.

Well undulated greens are surrounded by closely mown collection areas, which can provide an added challenge for high handicappers. Low Handicappers will welcome the opportunity to put some spin on the ball from these areas.

Outside of golf, there's a lot of natural beauty to the course. You may even spot the occasional gator or bobcat. Cypress Knoll is a course you should play if you're in the area and want to test your game, both physically and mentally. For more information or to book your next tee time, visit them online at www.cypressknollgolfandcountryclub.com or give them a call at (386) 437-5807.

Article Tags: Cypress Knoll, Gary Player Design. Jacksonville, Palm Coast, FL
Revised: 03/26/2018 - Article Viewed 2,592 Times - View Golf Course Profile
About: David Theoret
---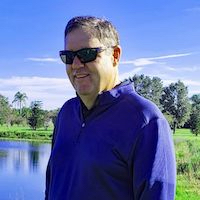 David Theoret has been in the golf and golf travel industry for over 10 years, primarily selling online advertising. For the past seven years, he has also been a golf writer, reviewing golf courses, resorts, destinations, equipment, golf apparel, and training aids - the latter of which never seems to help. David's articles and reviews have been posted on many golf travel and equipment websites.

Growing up in Southwestern Ontario, Canada, it was naturally assumed he would play hockey. Beginning at the age of 3 and continuing into his late 30's, he did just that. However, after one too many pucks to the head, he realized that golf was a lot easier on the body (whoever said hockey players were slow) and took the game up.

After moving to Florida and accepting a position with TravelGolf Media (now part of GolfNow) his love for the game grew exponentially. Most Saturdays you will find him on a course somewhere in Florida or on the practice range reinforcing his bad habits. David plays to a 10 handicap - unless there is money involved in which case it goes considerably higher. He currently resides in Lakeland, FL with his wife Belinda and their two "kids", Madyson and Molly.

---
More Articles by David Theoret