Share:
Druh Belts and Buckles
Accessorize with Flair
By David Theoret
Although he never really made a splash on any of the PGA-related tours, Englishman Simon "Hurdy" Hurd's colorful porkpie hats certainly did. By his own admission, he has always had an interest in fashion, both on and off the golf course. Hurd realized quickly that looking good on the course translated to playing better golf and set his sights on a career in the fashion world. Now, his company Druh Belts, has become a staple for many European and American touring professionals.

Druh - Hurd spelled backwards - has created a distinguished line of belts and buckles. Each one is handmade using the finest in sustainable and natural materials. The buckles are interchangeable - which seems to be the trend these days - allowing customers to create their own customized look both on and off the course.

Druh Belts are available in all kinds of leathers and textures including ostrich, lizard, crocodile, snakeskin and good old cow. Colors range almost across the entire spectrum. Whichever strap you choose, you're going to need to match it with a great looking buckle and this is where Druh exceeds. Choose from giant buckles, big buckles or bedazzled buckles, all with the Druh logo. There are also butterfly, flowers and flags to choose from, Or, if you want to support your team or country, choose from several licensed and limited-edition buckles including John Daly's infamous lion buckle. By the way, JD is also a client. There are over 100 buckles to choose from.

Recently, Druh was chosen as the belt provider for The Veteran's Golf Association, an honor that Druh USA president Kerry Vail holds very near and dear to his heart as his father is both a distinguished Air Force veteran and esteemed veteran golfer.

Lately, Druh's lineup his stretched into the apparel world and they now offer several sweaters, polos, tees and long sleeve shirts in several bright, stylish colors, with or with Druh's trademark logo. They also offer a few accessories including ION bracelets, cuff links and pompom headcovers. If you want to add a little color and flair to your golf wardrobe and take the next step in having friends recognize you on the course for something other than that crazy slice, take a look at Druh Belts and Buckles. You can visit them online at www.druhbeltsandbuckles.com.

Article Tags: belts, golf fashion, golf apparel, Druh, Druh belts
Revised: 07/21/2017 - Article Viewed 1,834 Times
About: David Theoret
---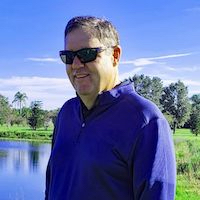 David Theoret has been in the golf and golf travel industry for over 10 years, primarily selling online advertising. For the past seven years, he has also been a golf writer, reviewing golf courses, resorts, destinations, equipment, golf apparel, and training aids - the latter of which never seems to help. David's articles and reviews have been posted on many golf travel and equipment websites.

Growing up in Southwestern Ontario, Canada, it was naturally assumed he would play hockey. Beginning at the age of 3 and continuing into his late 30's, he did just that. However, after one too many pucks to the head, he realized that golf was a lot easier on the body (whoever said hockey players were slow) and took the game up.

After moving to Florida and accepting a position with TravelGolf Media (now part of GolfNow) his love for the game grew exponentially. Most Saturdays you will find him on a course somewhere in Florida or on the practice range reinforcing his bad habits. David plays to a 10 handicap - unless there is money involved in which case it goes considerably higher. He currently resides in Lakeland, FL with his wife Belinda and their two "kids", Madyson and Molly.

---
More Articles by David Theoret